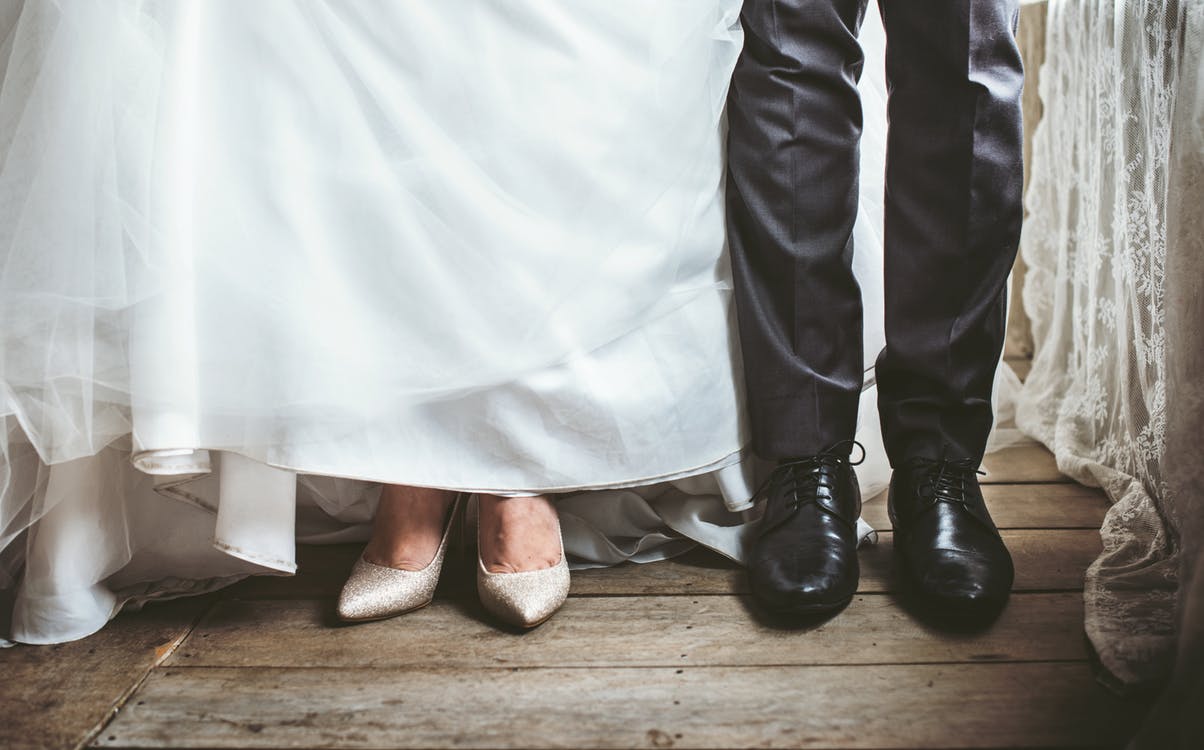 A Story of Three Husbands and One Stormy Marriage Alongside PTSD
She's still so young, but now being closer to thirty than twenty she feels more than a world away from her teenage-self. She's smiling, but it's strangely hard to tell if her eyes are too.
The greens and deep crimsons of a bouquet in her right hand contrast with the sheen of her ivory dress like night and day. She doesn't look at the black-suited man walking next to her along the charmingly rustic pier, she doesn't see him smiling down at her, but she holds his right hand with her left all the same.
The handsome white boat, moored in the background and emptied of its well-wishing guests, now only harbours the echoes of the vows the couple have just made. As newlyweds, it's clear they're not fazed by the bleak grey skies behind them. Their promised future is laid before them, and they both seem ready to fill it with their many colours.
I sit at my laptop and gaze at the print on my kitchen wall, my mind floods with warm memories of the day the photo was taken. The day my first marriage began.
As one might expect, my marriage was full of hope and fanciful visions of our future together. My first husband and I epitomised the meaning of teamwork, from the menial tasks of nightly cooking and weekend cleaning right through to finishing each other's sentences.
We revered each other's company as much as we enjoyed time apart. And with both of us working in stable full-time jobs, we had the means to fund a comfortable life and every reason to forecast an even better future.
Our child-free status gave us complete freedom to work and play as we pleased, so any fatiguing extended work hours would just as easily make way for languid trips to remote vineyards out of keenness to expand our cellar with little-known craft wines.
I offered my husband a calmness his life had been missing and influenced a move towards a structured pace that he'd always found elusive. Equally, my first husband was also my foundation. A solid base from which to test my new professional pursuits and a secure hug to come home to when the day overwhelmed.
I think I could sense the bubble would eventually burst.
It was my first husband who first recognised my slide into anxiety. It was my first husband who accepted, despite my self-inflicted humiliation, that I could face paralysing panic attacks at any time. And it was my first husband who ushered me to my initial psychologist appointment that eventually led me out of the dark chapter.
Inevitably people change, and whilst with my first husband I changed a great deal. Although – to his ultimate disappointment – far more than he did.
The inclination towards motherhood grew on me as I got to know my second husband better. Together we had bought a large house, its multiple bedrooms silently imploring us to fill them.
Even before our first baby arrived, my tired pregnant body steadily transformed our lifestyle into one of early nights and new priorities. My husband became just as immersed in my pregnancy as I was, and while I naturally stopped drinking completely from that first positive test, he too shelved much of his drinking.
The arrival of our daughter, however, threw me into an abrupt tailspin of anxiety. And while I numbly watched my second husband expertly tend to our baby's fussing and many wails, I sensed the black fog begin to descend in around me once more.
Having left my managerial job, I was not only stressed about how we would readjust as a single-income household but if I would ever embrace my new maternal role as depicted in all the parenting books. My husband took it all in his stride, both his crying baby and his weeping wife, which on one hand made me jealous of his natural ease as a father, and thankful on the other for his unwavering support.
So it was my second husband who urged me to the doctor, where my anxiety was given the new title of post-natal depression. And it was my second husband who supported me through enough sessions with a psychologist to see me emerge from the darkness.
Another baby arrived – a son this time – and although I had by now comfortably found my feet as a mother, I was becoming uneasily aware of leaning a little too heavily on my husband for a bit too long.
Despite my worries, the circumstances surrounding the eventual retreat of my second husband were, in fact, beyond our control. My rational brain seemed to accept that truth, even during the time of our intense emotional upheaval. Though it's no secret that I still mourn this turn in our lives.
It was a path neither of us had actively chosen, nor was it a direction we could have legitimately foreseen. So I accept that, ultimately, it was nothing more than fate that introduced me to my third, and current, husband.
This husband came with baggage. I might have called it only minor at first, but perhaps I didn't truly open my eyes until many years later. And perhaps I denied the truth for as long as I kept a tight grip on the belief that I would be able to help him. Or fix him. Or even cure him.
But try as we might, his baggage couldn't be neatly pushed under the bed or tucked away into a deep recess of the wardrobe. And before long (because he hadn't ever really considered unpacking it properly) my third husband instead began to carelessly leave it lying around our home, where, if I wasn't careful to pick my way around the cumbersome hazards, I'd soon trip and fall.
The baggage even came with us to the hospital when I delivered my third child. It was bad enough having to make space for it in our home, but I suddenly came to realise how little emotional energy I had to spare when my husband unzipped the mess without any thought in that little hospital room.
Of my three husbands, this match has been the most volatile and without doubt the most tumultuous. It has introduced the lowest of lows I've experienced in my life, but it's also opened my eyes to a new angle of life that I may never have appreciated without the experiencing the perilous path I've travelled with my third husband.
Because of his baggage that constantly bulges and strains against the seams with an uncontrollable PTSD, I've found myself not only without a firm foundation or a steady supportive partner, but unexpectedly as the sole brace of our entire family.
What I might have once considered a major life stress now shrinks away into insignificance in light of the affect my third husband's PTSD has had on our world.
No space for my own anxieties anymore. There are too many people depending on me every single day.
Life goes on, because of me.
Though I still keep that wedding photo with my first husband. It reminds me of a different time, a different couple. Its presence on the wall never gets mentioned. I'm pretty certain I'm the only one who really stops to look at it in any case, as a crucial reminder of a very different me.
And I still see my second husband, from time to time, though I never quite know when we're going to cross paths.  It's like a sweet surprise each time.
Talking with my second husband is as easy as it ever was. Comfortable and entirely natural, as though the last six years had never happened. And he always lets me know how very grateful he is of the support and loyalty I devote to my third husband and his chronic struggles with complex PTSD.
In these fleeting unions, we laugh together and we reminisce. I miss him so much.
But I find myself holding back ever so slightly, still acutely aware that my third husband might read too much into my happy, smiling face. I don't want to hurt him. And I don't want to remind him of a past that I clearly found much brighter.
It's hard now, at the conclusion of my story, to look back up at that photo on my wall and to honestly acknowledge the significance of what it represents in my life; not just a photo of my first wedding, but my only wedding.
And not just me hand in hand with my first husband, but my only husband.
If you enjoyed this post, please consider sharing it through your favourite social channel below.
PS. I'd love to meet you on FACEBOOK, or check out my PINTEREST boards or INSTAGRAM journey for more inspiration.